Riding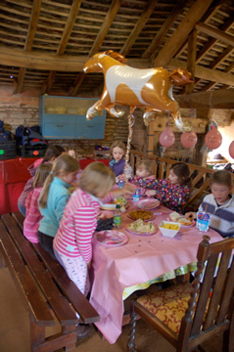 Hacking across the spectacular countryside along a selection of secure sheltered routes. All rides have the opportunity for cantering and some jumping depending on your ability.
Schooled lessons for children and adults in either our indoor or outdoor school where we aim to give varied, informative and pleasurable lessons.
Day courses, morning courses and Pony Club days are run during the school holidays. These focus on riding and horse care. Activities include stable management, gymkhana games and handy pony.
School groups have the opportunity to hack, school and take part in stable management. This gives pupils a varied experience in all aspects of horse management, helping to build confidence and independence around ponies while making new friends at the same time.
Gift vouchers make a wonderful present for Christmas, birthdays , anniversaries, or simply just to say thank you. We provide a voucher slip along with a coloured brochure.
Birthday parties where children are allocated a pony with an experienced leader and we usually take them on a hack around the farm. If the weather is unsettled we have an indoor arena where we walk, trot and play gymkhana games. The children can then have party food, supplied by you, in our tack room after the lesson. This building is an old traditional granary adjoining the house featuring original oak beams and a cider press, facilities include a party table, coffee room, toilet and spacious sitting area.